You can't fault Brian Chesky for changing the entire trajectory of the travel landscape with the ease of Airbnb booking. Over the last decade (despite the pandemic), more travellers are gearing towards short term rentals because of Airbnb – in the pursuit of more space, flexibility, and money in the bank.

But the truth is, as Airbnb has grown, so have its demands. 
Unbeknown to guests, who have already familiarised themselves with this giant OTA, Airbnb is concealing certain flaws and oversights, which can be detrimental to paying travellers.

While we're not here to preach that Airbnb is "all bad" – it's equally important for you to know that the platform might be misleading you with its shiny marketing and high-budget PR.

So, if you do choose to book your stay on Airbnb, you should at least get up-to-speed with our top tips when using this OTA. 
Better to be safe than sorry, right? 
Make Your Bookings WAY in Advance 
Unlike when you book a short-term rental directly, Airbnb doesn't offer very much flexibility.

This is because the platform doesn't hold onto the most desirable and best-priced accommodation available for a long period of time (hosts usually save this for guests who choose to book direct).

So, if you know that you're going to be booking your short term rental via Airbnb, have your travel plans confirmed at least a few weeks in advance, and try to avoid making any last-minute changes. If you're booking a place to stay in a touristy destination during peak season – then it's worth booking even months in advance for the best rates (but bear in mind, this still won't be as good as what you'll get if you book direct). 
We left a great blog to read about the advantages of booking direct with Luke Stays: Advantages Of Booking Direct Apart From The Most Known Booking Platforms
Do Your Research on Airbnb Booking
Unfortunately, despite its enormous growth, Airbnb still doesn't have anything in place that guarantees guests protection against short-term rental fraud, even with the Aircover feature. It is still very possible for scam artists to list fake properties as an Airbnb booking, and some travellers may remain none-the-wiser.

To keep yourself from potentially losing thousands of pounds, do your due diligence if you can; and try to ensure that the host and the property you're booking with are legitimate. Of course, without things like I-PRAC accreditation, it will be impossible for you to get that 100% assurance. But looking out for the following things on the property rentals listing might help:

Frequent spelling and grammar mistakes / sloppy English

No reviews or third-party endorsements

Poor-quality photos

A booking rate that seems suspiciously cheap 
Sometimes, Airbnb can feel like a bit of a gamble; the key is to remain as vigilant as possible – as this process is very different to booking directly. Here some tips when you're looking for houses to rent, that can help when determining your next stay with friends or family.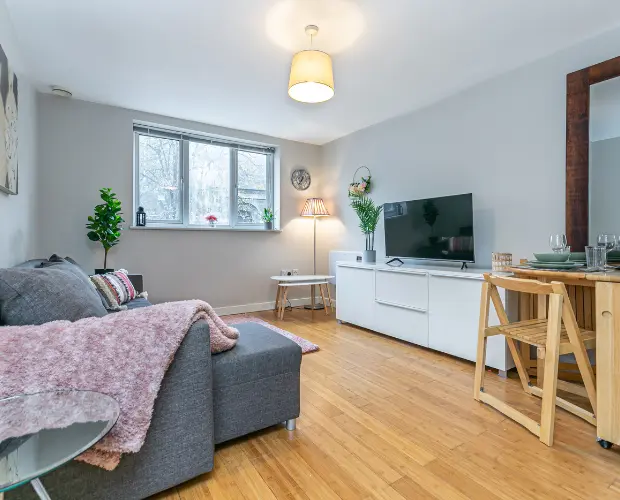 Have a Back-Up Plan – If you're booking with Airbnb
Despite Chesky's most recent AirCover policy, Airbnb hosts can still cancel your accommodation at the very last minute – if they have a viable enough excuse. 
In most cases, Airbnb takes the responsibility of finding you alternative accommodation as another Airbnb booking; but this is still a huge disruption in your travel plans (and all it depends on availability after all). 
Your best bet? Have a backup plan; because you can't have all your eggs in one basket with Airbnb. 
If you need to stay, book online on our website or use our concierge service by opening the chat widget, and select the best method of contact that suits you.
Have Some Extra Money Set Aside
Airbnb has a reputation for shocking people with its "additional costs" such as cleaning fees if your Airbnb host decides to charge it (this is entirely up to your host).
This means that your initial payment at the time of booking your Airbnb booking may not be your only payment – and it's worth having some extra cash set aside. 
Read more about how online booking on Airbnb can cost more money that booking serviced apartments directly with us.
With no real guarantees nor safety protocols in place, our biggest recommendation would be to fully understand what you're investing into – and do as much of your own research as possible. If you're travelling solo, ensure somebody is aware of your full itinerary and knows how to contact you. 
We also care about your safety and protection, and we always educate our guests to be more aware of their next staycation.