The Charming History of Darlington, and Why it Should be on Your Travel Bucket List 
When the majority of people think about towns and cities to visit in England, a few of the usual suspects immediately come to mind.

And while we love the razzmatazz of London and the quaint streets of Oxford and Cambridge, the market towns in the NorthEast of the country deserve a spot on your travel bucket list, too.

Darlington is actually the largest market town in the county of Durham, and home to a lot of the history that has shaped the landscape of the United Kingdom to date. Not only is this town's location ideal for visiting other sightseeing spots around the city, but it is also filled with charming spots and a friendly local community – those who prefer a more laid-back pace of life. 
Join us as we journey into this delightful town in today's article and explore why Darlington is a must-visit for historians and those who enjoy something "a bit different" from the overhyped touristy attractions. 
Anglo-Saxon and Viking History 
If you attended school in England, you might remember learning about the Anglo-Saxons and the Vikings in history class. These tribes are famously remembered for their long struggle (against each other) for control of Britain.

Darling began as an Anglo-Saxon settlement on the River Skerne, which is a northern tributary of the tees. The town was later taken over by the Danes (how the Saxons referred to the Vikings); and there are still many place names of Viking origin in its vicinity.
The Vikings were known for being raiders, pirates, explorers, and colonizers during the 9th and 11th centuries. Today, the town of Darlington is still home to the subtle remains of Viking life – with the official JORVIK Viking Centre only a 30-minute drive away in York.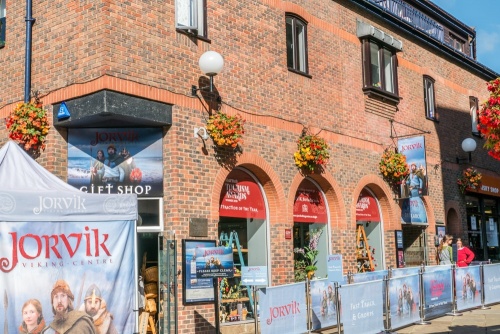 British history really does come alive when you visit Darlington – and it's especially exciting when you take the time to explore it properly.

The first recorded Viking raid actually came in 793, where God's church of Lindisfarne was destroyed, bringing "ruin and slaughter". (From the Anglo-Saxon Chronicle).

These pirates continued to raid around the coasts of England and across Great Britain, looting treasure and other goods; and capturing people as slaves. Eventually, the tribe settled across the lands they seized – including Iceland, the Faroes, and Orkney. The latter became particularly powerful, and from there, the Earls of Orkney ruled most of Scotland, which is why many Scots today still bear Viking names.

To the west of Britain, the Isle of Man became the Viking Kingdom; and in Ireland, the Vikings raided around the coasts and up the rivers. They founded the cities of Dublin, Cork, and Limerick as Viking strongholds.

By 866, the Vikings took over all of Northumbria, East Anglia, and parts of Mercia. York (Viking name: Jorvik) became their official capital, and this is how they settled in nearby towns including today's Darlington – which actually derives from the Anglo-Saxon "Dearthington" (meaning the settlement of Deornth's people).

Charles Dickens' Ties with Darlington and the NorthEast 
One of the greatest English novelists of the Victorian era, Charles Dickens is said to have had strong ties with the NorthEast of England and areas of Darlington.

During the early 1850s, Dickens organised his own travelling theatre group, which included visits to counties Durham and Northumberland (including today's Newcastle). 
If you're staying in the town of Darlington and have the time to spare, it's worth taking a visit to Bowest village – the home of Bowes Castle. This is where Dickens gained inspiration for one of his famous novels, Nicholas Nickleby.

For the more enthusiastic bookworms, there's a quaint independent bookshop in Darling called "HEAD" that's open every weekday and Saturday till 5.30pm. You can pick up your favourite read and enjoy it at one of the town's quaint cafes, Vineyard Cafe – among many others. 
Enjoying the Rich Heritage of Darlington 
As well as its exciting Anglo-Saxon and Viking history, Darlington is also known for its creative arts, architectural history, and countryside areas among locals and tourists alike.

In the evenings, the town has a vibrant aura with live music and streets dotted with trendy bars – so there's something for even travellers with wilder spirits. 
Raby Castle
This mediaeval castle was built by John Nevile and has a history dating back to more than 600 years. The castle was originally built as a Viking settlement of King Cnut (known as the "Rabi") in the 11th century and without a doubt, remains one of the most impressively intact castles in England. 
You'll enjoy sprawling the campus of around 200 acres, which includes a leafy English garden, tearooms, and a quaint gift shop. It's definitely recommended that you purchase tickets beforehand, as Raby Castle is particularly popular among tourists (and it'll save you from potential disappointment on the day). Visit the castle's official website here. 
Darlington Railway Museum (Head of Steam)
You've most likely heard that the town of Darlington is famous for its railway history across Britain – and for a good reason, too.

Contrary to popular belief, Darlington did not "invent" the first railway; however, it has a monument part in British railway history, thanks to Stockton and Darlington. This railway's first opening in 1825 brought together two features for the first time: The concept of a public railway and the use of steam locomotives.

Referred to in shorthand as the S&DR, this railway's first line connected coal mines at Shildon in County Durham and ran until 1863. Its historical success is owed to George Stephenson – who built several steam engines throughout the scope of his professional life. 
The Head of Steam Darlington Railway Museum is now home to Stephenson's Locomotion Number 1 and several other unique, old, and rare engines. This is a must-visit for all railway enthusiasts, as it's filled with souvenirs, antiques,  and moments of train history.


For more information and to keep up-to-date with the museum's big redevelopment work, visit the official website here. 
(If you have the time and an even bigger appetite for Darlington's railway history, don't forget to check out Darlington's Brick Train sculpture for an Instagrammable moment, too). 
Tees Cottage Pumping Station 
Located at Broken Scar and dating back to 1849, this pumping station was originally built for Darlington's drinking water.

Historians cite that this ancient monument largely revolutionised Darlington's complete water supply system and famously helped provide clean water to the community by pumping water from the River Tees.

On your insightful visit to Tees Cottage, you'll be able to explore several areas including The Boilers, The Beam Engine, The Electric Pumps, The Gas Engine and Gas Plant, The Slow Sand Filters, and The Blacksmith Shop. Plan your visit to this heritage site by visiting their website.
Planning Your Stay in Darlington 
There's plenty to sink your curious minds into during your stay at gorgeous Darlington. This market town is generally quieter compared to big cities like London and even York; however, if you can, plan your visit outside of term time (the school holidays in England are during late April and early May and the summer break falls from the end of July to the end of August).

The warmest months in the NorthEast of England are July and August – with cold winters falling during December and January. Mind you, the castles have a stunning ambience about them during the Christmas period.

You'll likely come across a fair bit of rain if you visit Darlington outside the summer months; but the driest month is said to be February -which is also off-peak time. 
The best way to enjoy Darlington is like a local, and really immerse yourself in the friendly and laid-back culture. To help you do this, opt for booking a serviced accommodation property in the area, rather than a traditional hotel (to really feel at home). We have a range of properties in our portfolio at Luke Stays and guarantee 100% payment protection, safety, security, and the highest standards of hospitality when you book direct.

In fact, if you book your serviced accommodation in Darlington directly on the Luke Stays website now, you'll even receive our exclusive StayCover feature for free – which includes additional perks like round-the-clock support if you have any more questions about Darlington or your SA home. This is not available on Booking.com or Airbnb.


We'll leave you to delve into some further historical reading, as there's so much more to learn and get excited about when it comes to the NorthEast of England. See you in the Viking town, when you get here!